Dr. Kraft is a member of the American Academy of Pain Management and the International Association for the study of pain.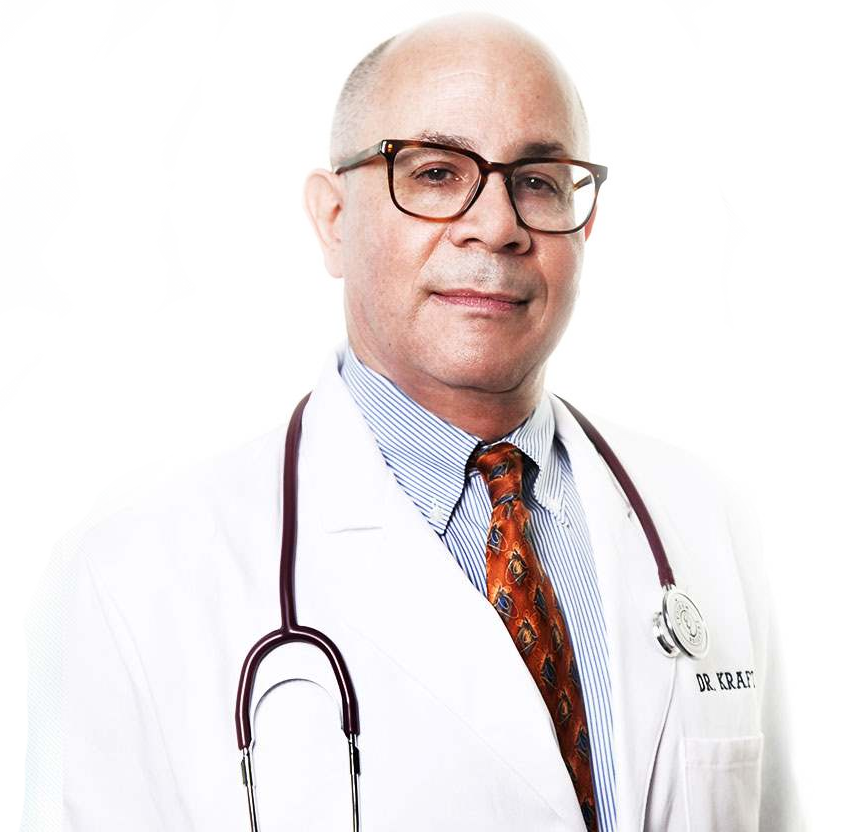 Dr. Kraft graduated magna cum laude with an undergraduate degree in BioEngineering from University of Pennsylvania, and is a member of the prestigious Tau Beta Pi engineering society. He earned his M.D. from Georgetown University Medical School and then served as a resident, and as Chief Resident, in Anesthesiology at Georgetown University Hospital. Dr. Kraft spent two decades as a hospital-based anesthesiologist, serving as Chairman and Vice-Chairman of two community hospital departments. He is a Diplomate of the American Board of Anesthesiology, with a recent focus on non-invasive pain management.
Catalyzed by his engineering background, Dr. Kraft has had a parallel hi-tech career. During his residency, he published the first article on computers in automated anesthesia. Subsequently, he has founded and sold two software companies. He has been CEO and a C-level executive at several software companies, received two Red Herring awards, and filed numerous patents and patent applications.
Dr. Kraft is an Editor of the Psychology and Behavioral Science International Journal, and a member of the American Society for Lasers in Medicine and Surgery, the International Association for the Study of Pain, and the American Academy of Pain Management. Read more about Dr. Kraft
in the news
.
Dr. Ittiq is board certified in Family Medicine and Sports Medicine.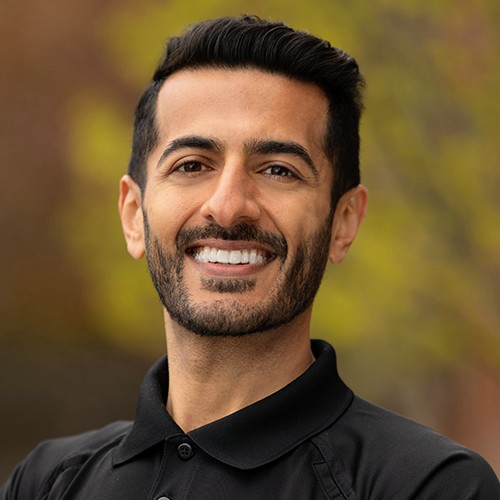 Dr. Bilal Ittiq is a Brooklyn, New York native who spent most of his life growing up in Oklahoma with his parents and three siblings. There, he graduated from the University of Oklahoma with a Bachelor's degree in psychology and an MD from the University of Oklahoma's College of Medicine. After medical school, he moved to Southern California with his wife where he completed his Family Medicine residency at Kaiser Permanente Woodland Hills and his Sports Medicine fellowship at Kaiser Permanente Fontana.

Before joining LaserMD, Dr. Ittiq worked as a Sports Medicine Physician at Kaiser Permanente in Spokane, Washington. There, he honed his skills in treating musculoskeletal conditions and furthered his interest in ultrasound-guided procedures such as joint and tendon injections. While practicing in Spokane, he was recognized by Castle Connoly as a Rising Star in Sports Medicine in both 2021 and 2022, a national honor. In addition, he was recognized as a Rising Star in Sports medicine by Spokane Coeur d'Alene Living magazine.
Johnna S. Manhattan Beach, CA:
Plans were being made for surgery to my upper spine at the neck. I saw the MRI and at C4 and C5 it was bone on bone. I had little range of mobility and constant headaches and a left arm that was very often numb and tingling. I have the best Neurosurgeon in California and I trust him implicitly. However, i saw the Laser Pain Relief Ad on Facebook and since I live close to the office I decided to give Dr Kraft a chance. I AM SO VERY HAPPY with the results. My mobility has increased substantially, the headaches are seldom and the numbness in my arm only rarely occurs. I began with a couple of sessions a week to now only maybe once a month when I think I feel I need it.

This has been truly amazing. I was skeptical in the beginning but it really has made a difference for me. My neurosurgeon has met Dr Kraft and approves of how Dr Kraft is helping me. I may still need the surgery someday but not in the immediate future

If you are in pain....my advice is give it a try!
Jane S. Arlington, VA:
I've had back pain for 35+ years; like 'most everyone with back pain, I've tried everything: acupuncture, physical therapy, chiropractic, massage, you name it - but relief remained elusive. Orthopedists want to perform surgery, which I'm completely against.

I discovered the benefits of the Laser4 for pain two years ago from a friend whose dog had undergone an amazing transformation when its vet used the Laser4 on its bad hips. On one visit to my friend's home on the east coast, I saw how she had to push her dog in a stroller because it couldn't walk more than few steps on its own. A few months later, on my next visit, the dog was running like a pup. I actually called the vet myself and begged for treatments on my back while I was visiting. The vet kindly complied. First three visits to the vet for laser I experienced no change in my back pain. On my fourth visit - voila!! I felt marvelous. Since then, I've been searching for doctors (who treat humans) to give me Laser4 treatments.

I've found chiropractors who use the Laser4 but with them I've run into two problems: 1) They attempt other, unwanted, treatments in addition to the laser ... without exception I've left chiropractors' offices in more pain than when I arrived. And 2) they don't use the laser for long enough periods or with high enough intensity. When I ask for longer/more intense treatments they tell me it's against protocol but my hunch is that they want me to make many additional appointments.

And so, until I found Dr Kraft, my problem has been finding a doctor who has the Laser4 and who will give me long enough treatments and at high enough intensity to be useful. I found Dr Kraft on the Internet; his site indicates he is all about the laser: he studies the laser, understands it, and dedicates himself to treating pain with the laser. He sells no frills or "extras" .... Dr Kraft is, to me, Dr Laser and that is exactly what I want and need.

I flew from Portland to LA to see Dr Kraft. I scheduled 2 appointments a day for 3 days in a row. If I lived in LA I would have scheduled appointments spaced farther apart, probably 2 appointments a week for three weeks. But since I was traveling time was of the essence and Dr Kraft was willing to work with me (another thing I really like about Dr Kraft: he doesn't dictate treatments, he WORKS WITH the patient).

I had the expectation that after one intense treatment I'd feel amazing and the subsequent treatments I had scheduled would just be icing on the cake. However, I did NOT feel relief from pain after my first visit - or after the second. By the end of the second day I was feeling discouraged ... I loved the soothing warmth of the laser but I wasn't getting the deep-down relief I craved.

After three days of intense laser treatments twice a day with Dr Kraft, I returned to Portland. I still hadn't found total relief from pain.

However, the third day I was home I awoke feeling like a new woman -- I had complete relief from pain -- and that relief was beyond exquisite. I sprang from my bed and twirled around, danced an impromptu little dance with my husband, and immediately e-mailed Dr Kraft that the laser had done its job - and done it masterfully. I spent my day shopping and running around and enjoying life as I hadn't in a very long time.

I learned on Dr Kraft's site that chronic pain is tougher to treat than acute pain .. that is, a back problem that's been present for 3 and a half decades is more of a challenge for the laser than a broken arm that occurred yesterday. So I realize I was a tough nut to crack. I never would have given up on finding relief from pain; to live with pain every single day is to lead a life that's diminished and I want to live life to the fullest and to be my best, strongest self. I am so glad I never gave up trying to find something that would provide relief. The laser is my ally in this journey of life and Dr Kraft is the one laser provider who is willing to work with me to get me what I need.

Each morning I awaken to a bright new day of freedom from pain. Life is ever so much better. I'm grateful. I'm happy.

How often I'll need to get down to LaserMD for a tune-up ... I don't know yet. If it's twice a year it's worth it. Beats surgery and constantly seeking out treatments that haven't a prayer of working. The laser4 is a wonderful piece of technology and in the hands of Dr Kraft a major contributor to my quality of life.
Michael F. Redondo Beach, CA:
Incredible results! I was able to play golf again after only two treatments! I'm not sure if this will be a long term solution, but I highly recommend this treatment to anyone for any kind of joint or bone pain.
David C. Los Angeles, CA:
I have Chronic Regional Pain Syndrome in my shoulder from recurrent college ice hockey injuries and have been in some form of daily pain for 15 years. I have had 5 surgeries, close to a hundred joint injections and dozens of stellate ganglion blocks including CT guided. I have tried numerous non narcotic medications and every narcotic known to man, including fentanyl, and while they all helped to reduce pain, I never achieved complete relief...Then my mother, a neurologist, told me a patient of hers with chronic intractable pain achieved excellent results with Dr. Kraft's laser therapy. I was very interested and after speaking with Dr. Kraft on the phone, I was ready to try it out. He thought I might not feel any relief until six treatments but after two or three I started feeling incredible relief. After 5 I was pain free the most of the day. This has never happened before!!! I am now lowering my pain meds and am more active than I have ever been. I highly recommend anyone with severe neuropathic pain try Dr. Kraft and his laser. He uses doses higher than anyone and does it safely. He is warm, kind and funny and will keep you at ease. Dr. Kraft could easily get double or tripple what he charges and this is by far the most cost effective treatment for pain I have encountered. My life has been forever changed by this wonderful man. Six stars!!!
vicki d. Venice, CA:
had heard about a type of laser used for pain from a friend who had significant relief from her back pain. After a couple of years with on and off pain and inflammation in my wrist, I decided to give laser a try.

First the office: it's very pleasant in Manhattan Beach near a mall with an Apple store and across from another shopping center -- that was a plus since I could combine treatment with running some errands. And there's plenty of parking.

Dr. Kraft (who is very nice) evaluated my wrist and showed me the mechanics of what was causing the inflammation and pain. I appreciate the education he gave me and now I have a better understanding of what has been happening. I went ahead with the 1st treatment then. The treatment is quite pleasant -- the laser is warm and feels like a gentle massage. I had 3 more treatments over the following 10 days.

The inflammation has definitely receded and I have pretty much full use of my wrist again. The big test for me is whether I can put my body weight on my wrist during yoga and workouts. I am being careful in the sense that I don't try pushups or planks every day, but so far I am back to putting my body weight on my wrist and have not had pain or swelling! Fingers crossed that the results hold up.
Holly N. Marina del Rey, CA:
Went in for treatment for tendinitis in my knee. Have tried a variety of other methods (medication, pt, etc) without success. Dr. Kraft was friendly & professional and I have had 2 treatments so far. I've already noticed a reduction in pain & increased mobility which is very exciting, but we'll see how it pans out!