Basic Info on Treating Multiple Sclerosis With Laser Photobiomodulation TLT, Transcranial Laser Therapy
Many patients with MS, Multiple Sclerosis, are surprised to find that they have significant pains with their MS. Traditionally, pain is not a large component of the MS symptoms. However, soft tissue and musculoskeletal pains may be quite common. The pains associated with MS can be very successfully treated with high-dose laser therapy. However, this is purely treating the symptom, rather than the cause, of MS.
There is also theoretical potential for treating the root cause of Multiple Sclerosis with TLT. There is a remote, theoretical, untested possibility that laser TLT may be able to halt or even reverse the progression of MS within the brain and spinal cord. TLT, transcranial laser therapy, has been shown in a small series of patients to have potentially breakthrough results on PTSD and TBI symptoms including depression, sleeplessness, suicidal thoughts, and employment.
TLT is being investigated for use in multiple brain disorders including PTSD, TBI Traumatic Brain Injury, Depression, and Alzheimers.
TLT is thought to work by accelerating the mitochondrial production of ATP, improving cell metabolism. Additionally, there is evidence that laser stimulation increases secretion of NGF, nerve growth factor. In MS, there is some indication that ATP production is damaged, and that cell metabolism lags the auto-immune destruction of myelin.
In MS, there is some indication in *mouse* models that laser therapy may be helpful in halting the progression of MS. The clinical human studies are scant and underwhelming. See selected references below.
Here are results of TLT in a PTSD patient. Note the 90-95% reduction in PTSD and Depression scores over 3 weeks, and persisting after TLT therapy stopped.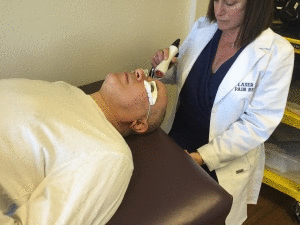 Potential Treatment of MS with TLT
LaserMD Pain Relief, one of the nation's leaders in high-dose laser pain treatment, can use TLT to treat selected MS patients. Key points:
TLT is unproven in MS. No reports of high-dose laser or TLT in humans.
Very selective criteria for receiving TLT.
Must be coordinated with your neurologist.
TLT is an off-label use of an FDA-cleared Class 4 medical laser.
Only available at the Santa Monica / St. John's area location.
You must be able to come to the Santa Monica location 2-4 times per week for 4-8 weeks.
You must be computer literate and have ready access to email and web.+
Documentary & Testimonial on TLT Treatment of PTSD
The first patient treated in California with TLT for her PTSD had these results after four weeks: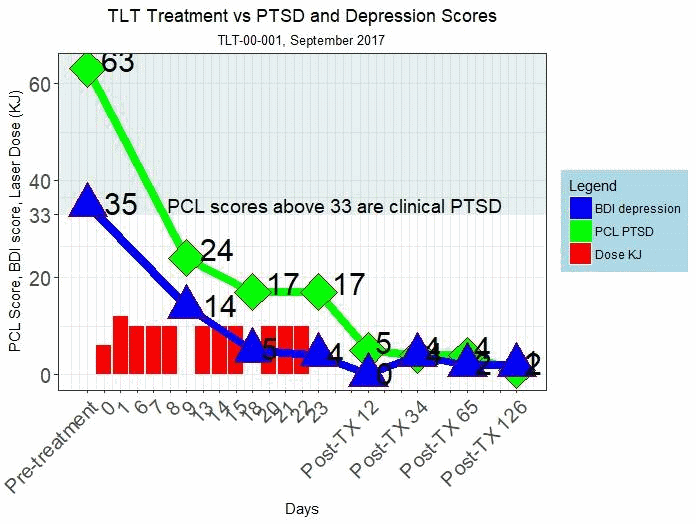 Watch this 3 minute video documentary of a 4 week PTSD Treatment, and the before- and after- interview: TLT PTSD Treatment Video Documentary
Scientific Background of TLT in PTSD
View these two resources:
Proposed Phase I trial of TLT in Veterans
Selected References for Treating MS Multiple Sclerosis with Laser, LLLT, or Photobiomodulation
Amelioration of Experimental Autoimmune Encephalomyelitis in C57BL/6 Mice by Photobiomodulation Induced by 670 nm Light

| | |
| --- | --- |
| Type | Journal Article |
| Author | Kamaldeen A. Muili |
| Author | Sandeep Gopalakrishnan |
| Author | Stacy L. Meyer |
| Author | Janis T. Eells |
| Author | Jeri-Anne Lyons |
| URL | http://dx.doi.org/10.1371/journal.pone.0030655 |
| Volume | 7 |
| Issue | 1 |
| Pages | e30655 |
| Publication | PLoS ONE |
| Date | January 24, 2012 |
| Journal Abbr | PLoS ONE |
| DOI | 10.1371/journal.pone.0030655 |
| Accessed | 11/8/2015, 8:04:21 PM |
| Library Catalog | PLoS Journals |
| Abstract | Background The approved immunomodulatory agents for the treatment of multiple sclerosis (MS) are only partially effective. It is thought that the combination of immunomodulatory and neuroprotective strategies is necessary to prevent or reverse disease progression. Irradiation with far red/near infrared light, termed photobiomodulation, is a therapeutic approach for inflammatory and neurodegenerative diseases. Data suggests that near-infrared light functions through neuroprotective and anti-inflammatory mechanisms. We sought to investigate the clinical effect of photobiomodulation in the Experimental Autoimmune Encephalomyelitis (EAE) model of multiple sclerosis. Methodology/Principal Findings The clinical effect of photobiomodulation induced by 670 nm light was investigated in the C57BL/6 mouse model of EAE. Disease was induced with myelin oligodendrocyte glycoprotein (MOG) according to standard laboratory protocol. Mice received 670 nm light or no light treatment (sham) administered as suppression and treatment protocols. 670 nm light reduced disease severity with both protocols compared to sham treated mice. Disease amelioration was associated with down-regulation of proinflammatory cytokines (interferon-γ, tumor necrosis factor-α) and up-regulation of anti-inflammatory cytokines (IL-4, IL-10) in vitro and in vivo. Conclusion/Significance These studies document the therapeutic potential of photobiomodulation with 670 nm light in the EAE model, in part through modulation of the immune response. |
| Date Added | 11/8/2015, 8:04:21 PM |
| Modified | 11/8/2015, 8:11:37 PM |

Tags:

laser
laser_LLLT
multiple_sclerosis
neural

Attachments

Muili et al. - 2012 - Amelioration of Experimental Autoimmune Encephalom.pdf

[Application of laser therapy in the physiotherapy of patients with multiple sclerosis]

| | |
| --- | --- |
| Type | Journal Article |
| Author | Anna Kubsik |
| Author | Paulina Klimkiewicz |
| Author | Marta Woldańska-Okońska |
| Volume | 65 |
| Issue | 1 |
| Pages | 55-61 |
| Publication | Wiadomości Lekarskie (Warsaw, Poland: 1960) |
| ISSN | 0043-5147 |
| Date | 2012 |
| Extra | PMID: 22827117 |
| Journal Abbr | Wiad. Lek. |
| Library Catalog | PubMed |
| Language | pol |
| Abstract | Multiple sclerosis is a chronic disease of the nervous system, which main manifestations are disseminated demyelinated the changes in the central nervous system. The pathogenesis of this disease is still not known, the curative treatment is not possible. In connection with the alleged autoimmune genesis of MS patients are administered immunomodulatory drugs. Patients with multiple sclerosis suffer from a number of symptoms associated with this disease. The aim of this article is to present the main clinical symptoms characteristic of MS and to present biological effects of low-energy lasers used in the treatment of multiple sclerosis. |
| Date Added | 11/8/2015, 8:07:50 PM |
| Modified | 11/8/2015, 8:07:50 PM |

Tags:

laser
laser_LLLT
multiple_sclerosis

Attachments

Death of Myelin Creating Brain Cells May Trigger Multiple Sclerosis

| | |
| --- | --- |
| Type | Web Page |
| Author | Neuroscience News |
| URL | http://neurosciencenews.com/oligodendrocytes-myelin-ms-neurology-3278/ |
| Accessed | 12/26/2015, 12:44:14 PM |
| Abstract | New study in mice finds the death of a specific class of brain cells triggers an MS-like immune response, which can be prevented by nanoparticle therapy.Multiple sclerosis (MS) may be triggered by |
| Website Title | Neuroscience News |
| Date Added | 12/26/2015, 12:44:14 PM |
| Modified | 12/26/2015, 12:44:14 PM |

Tags:

Notes:

Multiple sclerosis (MS) may be triggered by the death of brain cells that make myelin, the insulation around nerve fibers, according to research on a novel mouse model developed by scientists from the University of Chicago and Northwestern Medicine. The death of these cells initiates an autoimmune response against myelin, the main characteristic of the disease, which leads to MS-like symptoms in mice.

Attachments

Immunology of Relapse and Remission in Multiple Sclerosis

Tags:

laser
laser_LLLT
multiple_sclerosis
need original

Jeri-Anne Lyons | College of Health Sciences

Tags:

laser
laser_LLLT
multiple_sclerosis

Attachments

Laser biostimulation of patients suffering from multiple sclerosis in respect to the biological influence of laser light

| | |
| --- | --- |
| Type | Conference Paper |
| Author | Cezary Peszynski-Drews |
| Author | Andrzej Klimek |
| Author | Marek Sopinski |
| Author | Dominik Obrzejta |
| URL | http://dx.doi.org/10.1117/12.520611 |
| Volume | 5229 |
| Pages | 97-103 |
| Date | 2003 |
| DOI | 10.1117/12.520611 |
| Accessed | 11/8/2015, 8:06:39 PM |
| Library Catalog | Silverchair |
| Abstract | The authors discuss the results, obtained so far during three years' clinical examination, of laser therapy in the treatment of patients suffering from multiple sclerosis. They regard both the results of former laboratory experiments and so far discovered mechanisms of biological influence of laser light as an objective explanation of high effectiveness of laser therapy in the csae of this so far incurable disease. They discuss wide range of biological mechanisms of laser therapy, examined so far on different levels (cell, tissue, organ), allowing the explanation of beneficial influence of laser light in pathogenetically different morbidities. |
| Date Added | 11/8/2015, 8:06:39 PM |
| Modified | 11/8/2015, 8:06:39 PM |

Tags:

laser
laser_LLLT
multiple_sclerosis

Attachments

Peszynski-Drews et al. - 2003 - Laser biostimulation of patients suffering from mu.pdf

Light therapy to treat autoimmune disease

| | |
| --- | --- |
| Type | Journal Article |
| Author | Jeri-Anne Lyons |
| URL | http://www.spie.org/x113438.xml |
| Publication | SPIE Newsroom |
| ISSN | 18182259 |
| Date | 2015-04-24 |
| DOI | 10.1117/2.1201504.005900 |
| Accessed | 11/8/2015, 8:08:41 PM |
| Library Catalog | CrossRef |
| Date Added | 11/8/2015, 8:08:41 PM |
| Modified | 12/7/2017, 7:56:57 PM |

Tags:

laser
laser_LLLT
multiple_sclerosis
need original

Attachments

Light therapy to treat autoimmune disease

LLLT for Multiple sclerosis (MS) : Nice work Jeri-Anne, Janis and Chukuka | THOR Low Level Laser Therapy LLLT Products and Training

Tags:

laser
laser_LLLT
multiple_sclerosis
neural

Attachments

LLLT for Multiple sclerosis (MS) : Nice work Jeri-Anne, Janis and Chukuka | THOR Low Level Laser Therapy LLLT Products and Training

Low-level laser therapy ameliorates disease progression in a mouse model of multiple sclerosis

| | |
| --- | --- |
| Type | Journal Article |
| Author | Elaine D. Gonçalves |
| Author | Priscila S. Souza |
| Author | Vicente Lieberknecht |
| Author | Giulia S. P. Fidelis |
| Author | Rafael I. Barbosa |
| Author | Paulo C. L. Silveira |
| Author | Ricardo A. de Pinho |
| Author | Rafael C. Dutra |
| URL | https://doi.org/10.3109/08916934.2015.1124425 |
| Volume | 49 |
| Issue | 2 |
| Pages | 132-142 |
| Publication | Autoimmunity |
| ISSN | 0891-6934 |
| Date | February 17, 2016 |
| Extra | PMID: 26703077 |
| DOI | 10.3109/08916934.2015.1124425 |
| Accessed | 12/7/2017, 8:05:46 PM |
| Library Catalog | Taylor and Francis+NEJM |
| Abstract | Multiple sclerosis (MS) is an autoimmune demyelinating inflammatory disease characterized by recurrent episodes of T cell-mediated immune attack on central nervous system (CNS) myelin, leading to axon damage and progressive disability. The existing therapies for MS are only partially effective and are associated with undesirable side effects. Low-level laser therapy (LLLT) has been clinically used to treat inflammation, and to induce tissue healing and repair processes. However, there are no reports about the effects and mechanisms of LLLT in experimental autoimmune encephalomyelitis (EAE), an established model of MS. Here, we report the effects and underlying mechanisms of action of LLLT (AlGaInP, 660 nm and GaAs, 904 nm) irradiated on the spinal cord during EAE development. EAE was induced in female C57BL/6 mice by immunization with MOG35–55 peptide emulsified in complete Freund's adjuvant. Our results showed that LLLT consistently reduced the clinical score of EAE and delayed the disease onset, and also prevented weight loss induced by immunization. Furthermore, these beneficial effects of LLLT seem to be associated with the down-regulation of NO levels in the CNS, although the treatment with LLLT failed to inhibit lipid peroxidation and restore antioxidant defense during EAE. Finally, histological analysis showed that LLLT blocked neuroinflammation through a reduction of inflammatory cells in the CNS, especially lymphocytes, as well as preventing demyelination in the spinal cord after EAE induction. Together, our results suggest the use of LLLT as a therapeutic application during autoimmune neuroinflammatory responses, such as MS. |
| Date Added | 12/7/2017, 8:05:46 PM |
| Modified | 12/7/2017, 8:07:15 PM |

Tags:

laser
laser_LLLT
LLLT
multiple_sclerosis

Attachments

Mitochondrial dysfunction as a cause of axonal degeneration in multiple sclerosis patients

| | |
| --- | --- |
| Type | Journal Article |
| Author | Ranjan Dutta |
| Author | Jennifer McDonough |
| Author | Xinghua Yin |
| Author | John Peterson |
| Author | Ansi Chang |
| Author | Thalia Torres |
| Author | Tatyana Gudz |
| Author | Wendy B. Macklin |
| Author | David A. Lewis |
| Author | Robert J. Fox |
| Author | Richard Rudick |
| Author | Karoly Mirnics |
| Author | Bruce D. Trapp |
| URL | http://doi.wiley.com/10.1002/ana.20736 |
| Volume | 59 |
| Issue | 3 |
| Pages | 478-489 |
| Publication | Annals of Neurology |
| ISSN | 03645134, 15318249 |
| Date | 03/2006 |
| DOI | 10.1002/ana.20736 |
| Accessed | 11/8/2015, 8:08:41 PM |
| Library Catalog | CrossRef |
| Language | en |
| Date Added | 11/8/2015, 8:08:41 PM |
| Modified | 12/7/2017, 8:01:27 PM |

Tags:

laser
laser_LLLT
multiple_sclerosis
neural

Attachments

Dutta et al. - 2006 - Mitochondrial dysfunction as a cause of axonal deg.pdf

Multiple Sclerosis and Low Level Laser Therapy

| | |
| --- | --- |
| Type | Blog Post |
| Author | David Rindge |
| URL | http://www.healinglightseminars.com/laser-articles/multiple-sclerosis-and-low-level-laser-therapy/ |
| Accessed | 11/8/2015, 8:06:08 PM |
| Abstract | Dr. Peszynski-Drews "Our results from the use of laser therapy on multiple sclerosis cases shows that laser biostimulation is a successful and effective method by which to treat patients," said Dr. Cezary Peszynski-Drews, director of the Laser Diagnostics and Therapy Center of the Technical... |
| Date Added | 11/8/2015, 8:06:08 PM |
| Modified | 11/8/2015, 8:06:08 PM |

Tags:

laser
laser_LLLT
multiple_sclerosis

Attachments

Photobiomodulation Induced by 670 nm Light Ameliorates MOG35-55 Induced EAE in Female C57BL/6 Mice: A Role for Remediation of Nitrosative Stress

| | |
| --- | --- |
| Abstract | Experimental autoimmune encephalomyelitis (EAE) is the most commonly studied animal model of multiple sclerosis (MS), a chronic autoimmune demyelinating disorder of the central nervous system. Immunomodulatory and immunosuppressive therapies currently approved for the treatment of MS slow disease progression, but do not prevent it. A growing body of evidence suggests additional mechanisms contribute to disease progression. We previously demonstrated the amelioration of myelin oligodendrocyte glycoprotein (MOG)-induced EAE in C57BL/6 mice by 670 nm light-induced photobiomodulation, mediated in part by immune modulation. Numerous other studies demonstrate that near-infrared/far red light is therapeutically active through modulation of nitrosoxidative stress. As nitric oxide has been reported to play diverse roles in EAE/MS, and recent studies suggest that axonal loss and progression of disability in MS is mediated by nitrosoxidative stress, we investigated the effect of 670 nm light treatment on nitrosative stress in MOG-induced EAE. These data indicate that 670 nm light therapy protects against nitrosative stress and apoptosis within the central nervous system, contributing to the clinical effect of 670 nm light therapy previously noted in the EAE model. |
| Author | Kamaldeen A. Muili |
| Author | Sandeep Gopalakrishnan |
| Author | Janis T. Eells |
| Author | Jeri-Anne Lyons |
| Editor | Joseph Najbauer |
| URL | http://dx.plos.org/10.1371/journal.pone.0067358 |
| Volume | 8 |
| Issue | 6 |
| Pages | e67358 |
| Publication | PLoS ONE |
| ISSN | 1932-6203 |
| Date | 2013-6-28 |
| DOI | 10.1371/journal.pone.0067358 |
| Accessed | 11/8/2015, 8:08:41 PM |
| Library Catalog | CrossRef |
| Language | en |
| Short Title | Photobiomodulation Induced by 670 nm Light Ameliorates MOG35-55 Induced EAE in Female C57BL/6 Mice |
| Date Added | 11/8/2015, 8:08:41 PM |
| Modified | 11/8/2015, 8:11:35 PM |

Tags:

laser
laser_LLLT
multiple_sclerosis
neural

Attachments

Muili et al. - 2013 - Photobiomodulation Induced by 670 nm Light Amelior.pdf
Muili et al. - 2013 - Photobiomodulation Induced by 670 nm Light Amelior.pdf

Photobiomodulation reduces photoreceptor death and regulates cytoprotection in early states of P23H retinal dystrophy

| | |
| --- | --- |
| Type | Conference Paper |
| Author | Diana K. Kirk |
| Author | Sandeep Gopalakrishnan |
| Author | Heather Schmitt |
| Author | Betsy Abroe |
| Author | Michele Stoehr |
| Author | Adam Dubis |
| Author | Joseph Carroll |
| Author | Jonathan Stone |
| Author | Krisztina Valter |
| Author | Janis Eells |
| URL | http://dx.doi.org/10.1117/12.981791 |
| Volume | 8569 |
| Pages | 85690F-85690F-10 |
| Date | 2013 |
| DOI | 10.1117/12.981791 |
| Accessed | 11/8/2015, 8:08:49 PM |
| Library Catalog | Silverchair |
| Abstract | Irradiation by light in the far-red to near-infrared (NIR) region of the spectrum (photobiomodulation, PBM) has been demonstrated to attenuate the severity of neurodegenerative disease in experimental and clinical studies. The purpose of this study was to test the hypothesis that 670 nm PBM would protect against the loss of retinal function and improve photoreceptor survival in a rodent model of retinitis pigmentosa, the P23H transgenic rat. P23H rat pups were treated once per day with a 670 nm LED array (180 sec treatments at 50 mW/cm2; fluence 9 joules/cm2) (Quantum Devices Inc., Barneveld WI) from postnatal day (p) 16-20 or from p10-20. Sham-treated rats were restrained, but not exposed to NIR light. The status of the retina was determined at p22 by assessment of mitochondrial function, oxidative stress and cell death. In a second series of studies, retinal status was assessed at p30 by measuring photoreceptor function by ERG and retinal morphology by Spectral Domain Optical Coherence Tomography (SD-OCT). 670 nm PBM increased retinal mitochondrial cytochrome oxidase activity and upregulated the retina's production of the key mitochondrial antioxidant enzyme, MnSOD. PBM also attenuated photoreceptor cell loss and improved photoreceptor function. PBM protects photoreceptors in the developing P23H retina, by augmenting mitochondrial function and stimulating antioxidant protective pathways. Photobiomodulation may have therapeutic potential, where mitochondrial damage is a step in the death of photoreceptors. |
| Date Added | 11/8/2015, 8:08:49 PM |
| Modified | 11/8/2015, 8:08:49 PM |

Tags:

laser
laser_LLLT
multiple_sclerosis
neural

The brain's way of healing: remarkable discoveries and recoveries from the frontiers of neuroplasticity

| | |
| --- | --- |
| Type | Book |
| Author | Norman Doidge |
| URL | http://rbdigital.oneclickdigital.com |
| ISBN | 978-0-698-19143-3 |
| Date | 2015 |
| Extra | OCLC: 900607119 |
| Accessed | 1/2/2017, 5:41:25 PM |
| Library Catalog | Open WorldCat |
| Language | English |
| Abstract | " The New York Times bestselling author of The Brain That Changes Itself presents astounding advances in the treatment of brain injury and illness. In The Brain That Changes Itself, Norman Doidge described the most important breakthrough in our understanding of the brain in four hundred years: the discovery that the brain can change its own structure and function in response to mental experience--what we call neuroplasticity. His revolutionary new book shows, for the first time, how the amazing process of neuroplastic healing really works. It describes natural, non-invasive avenues into the brain provided by the forms of energy around us--light, sound, vibration, movement--which pass through our senses and our bodies to awaken the brain's own healing capacities without producing unpleasant side effects. Doidge explores cases where patients alleviated years of chronic pain or recovered from debilitating strokes or accidents; children on the autistic spectrum or with learning disorders normalizing; symptoms of multiple sclerosis, Parkinson's disease, and cerebral palsy radically improved, and other near-miracle recoveries. And we learn how to vastly reduce the risk of dementia with simple approaches anyone can use. For centuries it was believed that the brain's complexity prevented recovery from damage or disease. The Brain's Way of Healing shows that this very sophistication is the source of a unique kind of healing. As he did so lucidly in The Brain That Changes Itself, Doidge uses stories to present cutting-edge science with practical real-world applications, and principles that everyone can apply to improve their brain's performance and health"-- |
| Short Title | The brain's way of healing |
| Date Added | 1/2/2017, 5:41:25 PM |
| Modified | 11/26/2017, 12:05:21 PM |

Tags:

TLT_transcranial_laser_therapy